Picture a happy family sitting around a crackling fire enjoying a cup or tea or hot chocolate. Perhaps, the parents are sharing stories of their youth, or simply enjoying the company of their children. The setting presents a scene similar to a Norman Rockwell painting.
If you have ever considered adding a fireplace to your home but are unsure of the benefits other than the creation of a ideal setting, read below for the top benefits of fireplaces:
Storm-proof:
Having a wood burning fireplace gives you the ability to heat your home and cook if you lose power. It is especially helpful if you live out in the country or anywhere where power outages are a regular occurrence. It is a beautiful scene to watch snow fall. However, no one likes snow when it comes with a power outage. When ice and snow knock out power, families without a fireplace are forced to either freeze until their power is restored, which is uncomfortable, or attempt to travel to another home that does have a heating source, which can be dangerous when roads are hazardous.
Increase your home's value:
Many potential home buyers feel a fireplace is a positive attribute in a home. Therefore, if your home doesn't currently have a fireplace, adding one can bolster your home's value and your overall satisfaction with it as well.
Offers an ideal decorating opportunity:
A fireplace with a beautiful wood mantle makes an ideal backdrop for decorating. During the holidays, stockings hanging from the mantle with greenery or a winter scene of your choice across the top is a beautiful look that imparts tradition and peace. The rest of the year, you can place a canvas painting of either your family or a beautiful photo that goes with your decor on the mantle.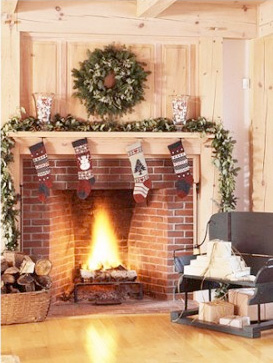 Presents an opportunity for contemporary style:
If an ornate wood mantle isn't something you would want in your house, there are also contemporary fireplaces with clean lines that set in the wall and do not feature a mantle. These stylish fireplaces offer a different look for the home owner who desires clean lines and a minimalist decor in their design scheme.
Wise way to use wood:
If you live in a heavily wooded area, having a fireplace to burn the extra wood that is bound to pile up due to fallen trees and other property clearing methods is wise.
The above points reveal why installing a fireplace is a great idea as it truly makes a house a home.
by
Comments
comments