Today, many homes are being designed with contemporary style in mind. Existing homeowners are opting to update their homes by utilizing a contemporary look. If this sounds like you, read below for some tips on moving your home's look into the modern era:
All about color:
Contemporary design is often defined by the colors used on the walls and throughout the home. Neutral colors such as white, cream, brown, and taupe are often used on the wall and bold colors are incorporated with furniture or perhaps on one accent wall. For example, a contemporary kitchen will often have muted wall colors but have bold-colored cabinetry or at least have brightly-colored appliances. The contrast in muted and bold colors is one of the most recognizable traits of contemporary design.
Bright lighting:
Another common aspect of contemporary design is well-illuminated spaces. Track lighting, floor lamps, and pendant lights are all popular in contemporary design. Lighting is key because it complements the clean lines and bold colors used throughout the home.
Other materials:
Contemporary design also incorporates other finishes such as rock, metal, or glass into home design. A great way to accomplish this is to install an inset fireplace with a stone or metal face. This does not mean installing a large fireplace with ornate wood mantle. Instead, it should be sleek and clean with no fuss. In a living area, a contemporary fireplace completes a modern look and adds some pizzazz to a dull space.
Fabric and texture:
In addition to stones and metals, it is also great to add texture in order to achieve a contemporary look. Texture can be incorporated through throw pillows, by adding rugs, or through window treatments. Trending fabrics include wool, linen, crushed velvet, and silk.
Woods:
When choosing wood tones for a contemporary look, always aim towards the extreme. Modern design favors either extremely light wood or very dark wood. It is also a great idea to make patterns with varying tones of woods. End tables, shelves, and pictures frames also offer a great way to incorporate wood into a home's design theme.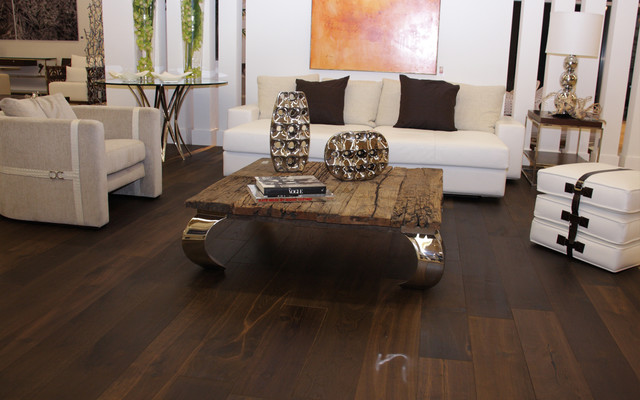 The aspects above reveal how you can transform your home into a modern style. Incorporate any or all of them for a dramatic effect. Above all else, remember contemporary style demands clean lines and bold accents.
by
Comments
comments