Fireplaces were originally designed with only function in mind. After all, many families depended on them for heat and meal preparation; the "look" of the fireplace wasn't very important. Today, though, the overall design and visual appeal of a fireplace is crucial as fireplaces are now much more of a statement piece that also happens to be functional. Read below for some of latest trends regarding fireplace design:
See-through or double sided fireplaces for double the warmth and style: 
Many homeowners are implementing see-through fireplaces that are visible from two rooms. For example, some homeowners are installing see-through fireplaces that divide a kitchen and living room area. The great thing about this setup is that it allows homeowners to enjoy the fireplace in more than one room. Another popular way to incorporate these fireplaces is to have one side indoors and one outside to be accessed through an enclosed porch or patio area.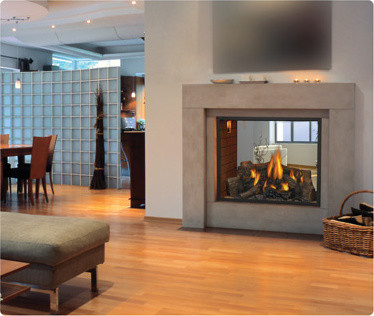 Fireplaces in more than one room: 
Installing fireplaces throughout the home, including the master bathroom and bedroom, has become popular. Usually, the fireplaces used in these rooms are smaller than a traditional fireplace and are sometimes inset into the wall so they don't take up floor space.
++
Outdoor fireplaces: 
Outdoor fireplaces have become popular thanks to the fact that new materials and design technology has made it possible to place a fireplace that looks similar to one found indoors, outside. When the new materials and design technology is utilized, an outdoor fireplace will function just as well as it would indoors and will be weather resistant.
New and improved gas and electric fireplaces: 
Another trend that has become popular in recent years is gas and electric fireplaces with alternative looks. For example, gas or electric fireplaces can now feature rocks, glowing embers, or even glass instead of the commonly used log sets. (Don't worry! Log sets are still available.)
Sleek outward appearance:
 Today, even contemporary-styled homes can utilize fireplaces thanks to the fact that they come in all shapes, sizes, and styles. Fireplaces are no longer just a country or traditional look. In fact, inset fireplaces look great in a contemporary living space or any other room in a modern home as they are seamless and have clean lines. A minimalist look is now possible in regards to a fireplace due to recent design updates and demand for smaller, more modern-looking fireplaces.
by
Comments
comments